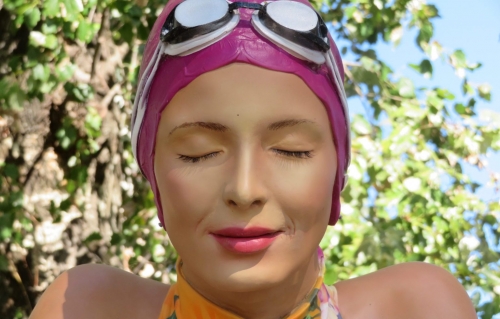 As you stride past the storefronts on 10th Avenue in the cold you see in one a tall Black woman in a swimsuit and cap, eyes closed, leaning against a pedestal with her hand resting on a volleyball. Normally you'd keep walking, but you can't help but wonder…is she real?
No. She's more than real. She was created by Carole A. Feuerman, a Connecticut-born hyperrealistic sculptor and artist whose work has featured at the Met in New York, the Smithsonian's National Portrait Gallery, the State Hermitage Museum in St. Petersburg, and more.
The inside of the Chase Contemporary Gallery features more sculptures, some smaller-than-life perched atop plain white pedestals, others life-size, mostly women. They all have their eyes closed, lost in some moment of their own. Art collectors and other VIP clientele sip wine, eat croissants, and mingle with Feuerman herself.
Invite Only Studios and Prince Rumi of The Agency of Creative New York sponsored the event, which included a Q&A with Feuerman led by the gallery's Associate Director Marina Dojchinov and Fine Art Dealer Dru Arstark.
There's several occasions to celebrate today. This is Chase Contemporary's first solo exhibition since they were established in 2017. The exhibit also celebrates Feuerman's prolific 50-year-career as well as her new monograph: 50 Years of Looking Good. It's a good title. Since the 1970s, Feuerman has demonstrated time and again her ability to capture moments of intimate beauty in bronze, resin, marble, and more.
During the Q&A, Feuerman shared some insight into her process. She takes inspiration from the people around her—a friend of hers, someone on the street, a photo of a celebrity. She works on multiple sculptures at a time; each one typically takes 1-3 years to complete. The table-top size pieces go quicker than the life-size ones, but they're much more challenging. Feuerman refuses to sacrifice detail regardless of scale. If you pick up the table-top figurine of one of her Quan series and turn it upside down to look at its face, you'll see tiny individual mink eyelashes fanning out from each closed eye.
The process seems meditative, similar to the postures and expressions of each sculpture in the gallery. It sounds like a much-needed escape to some more peaceful inner life inhabited by these serene figures. I can't help but wonder how such balanced, untroubled art could flourish in such troubling times before I step back out into the cold Manhattan air.
If you're looking for a moment of serenity in Chelsea, you might find it at Feuerman's exhibit at Chase Contemporary which closes on December 12. If you're not in New York, Feuerman is always on the move.
By Emilia Yu
Click here to view the full article on The Knockturnal