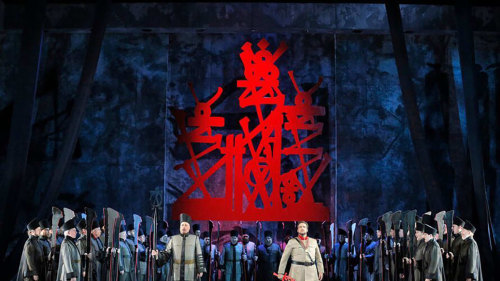 Los Angeles artist RETNA (Marquis Duriel Lewis) has always loved monuments and buildings and, as a young graffiti artist, he longed to leave his mark on them. Now his work will be part of a grand building—inside rather than outside—when Aida opens at the San Francisco Opera and the set design incorporates his art. A couple weeks before the November 5th opening in San Francisco, RETNA, known for creating an original script combining influences from Egyptian hieroglyphics, Old English, and calligraphy, drove up with his mother from Los Angles to sit in on rehearsals of Aida. He's thrilled to have his work be part of the opera and feels it fits into the story. "I was a graffiti writer, so script has always been something that's been inherent in my work, and as I got older, it became more calligraphic, but I was always into hieroglyphics," he said. "I had a fascination for cultures that had passed that had informed the future and who we are as a people. I was always intrigued by that kind of work."
RETNA's art has been displayed around the world, including in galleries in Los Angeles, New York, London, and Mexico City as well as being used at a Louis Vuitton store in Miami, a NIKE store in Las Vegas, and on the cover of Justin Bieber's album, Purpose. Someone at the Los Angeles Opera showed RETNA's art to Francesca Zambello, the director of Aida, and Zambello thought his style of painting could work well with this opera set in ancient Egypt. Zambello is also the artistic director of the Washington National Opera, a co-producer of Aida, along with the Seattle Opera and Minnesota Opera.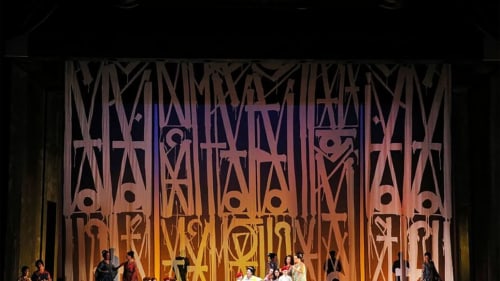 "It's a modern take on Aida with an eye to the past," Zambello said about this production. The scene the opera is known for, Zambello says, is the triumphant march when the Egyptian army returns following the victory over the Ethiopians, an elaborate spectacle that includes a ballet, chorus and orchestra. But she says there's more to the story of the military commander, Radames, who's in love with Aida, the Egyptian slave girl, while Aida's mistress, Amneris, loves Radames. Along with a love triangle, the story has a compelling conflict between duty and desire, and she calls Aida intimate as well as grand and powerful.
Using RETNA's bold contemporary style gives the San Francisco Opera a new way of telling a classic story that the company has produced in 32 out of 94 of its seasons, says Daniel Knapp, the director of production at the opera. Knapp worked with the scenic and lighting designers to make RETNA's artwork a part of the sets, with, for example, rotating units using his designs on each side of the stage and LED lights behind the artwork that change color. Knapp says RETNA's art has become a part of almost everything that happens onstage. "Even the soldier's weapons are pieces of RETNA's language," he said. "And it says something about how language is one of the most powerful tools we have."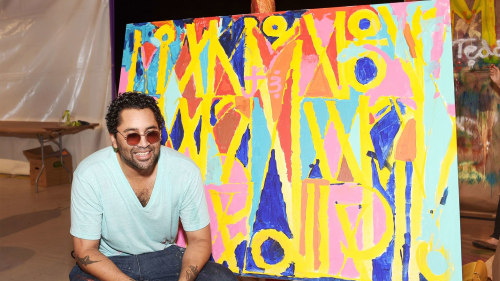 Working with all the designers, production people, and the scores of other involved in making an opera was a wonderful experience, RETNA says – and very different than what he usually does. "I learned how to let go and how to allow other creative ideas to expand the vision and how to work with a multitude of different people that put these things on," he said. "When I'm in the studio or painting a mural, it's two to three people, max, so to work with hundreds of people was pretty amazing." To prepare, RETNA bought all the books on Verdi and Aida he could find as well as DVDs of past productions. He loved being involved in an opera that first premiered at Cairo's Khedivial Opera House in 1871.
"I wanted to part of this historical event that I'd been influenced by and to be in a dialogue with other creative people in another realm," he said. "I also wanted to see my work in these fascinating monumental buildings." RETNA says as a kid he liked the aesthetic of Chinese and Korean writing even though he couldn't understand it, and he has strived to create work that he feels everyone can connect with. "You know, a lot of the symbols I make, it's the circle, the line—I didn't invent those symbols," he said. "I think everybody can identify with it." This is the first theatrical production he's been involved in—but he hopes it won't be his last. He loves seeing his designs on stage. "It feels amazing – the scale and the speed," he said. "The way they can change the lighting and the mood—I'm in complete awe."
By Emily Wilson
Click here to view the full article on The Daily Beast