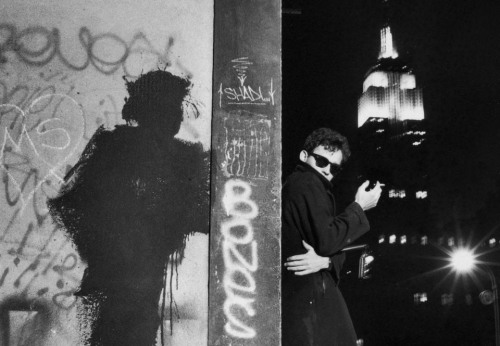 Before Banksy, before ROA, before Blek le Rat, street corners in early 1980s Manhattan became a canvas for 'shadowmen', distinctive figures on walls and alleyways. They were the work of Richard Hambleton, who many consider the first street artist.
Hambleton died in 2017 of cancer. The first major retrospective of his work since his death will take place from September 13-15 at London's Leake Street Arches, vaults underneath Waterloo station. On September 18, an exhibition of limited edition prints will also open at the Maddox Gallery in Westbourne Grove.
Andy Valmorbida, a leading collector, became interested in Hambleton's work in the early 2000s. The choice of London as a venue for the retrospective was deliberate.
'Banksy is so big we wanted to show London where it all started,' he says. 'Banksy ripped off Blek the Rat, and Blek le Rat cites Hambleton as his inspiration. Hambleton was such a pioneer. His gesture and brushstroke is so strong.'
Born in 1952, Hambleton's training was traditional, firstly at the Emily Carr University of Art and Design in Vancouver, followed by the San Francisco Art Institute. His first works - under the pseudonym Mr Ree - were responses to the high crime rates in North American cities in the 1970s. Working at night, he drew fake police chalk outlines on pavements with a splash of red blood to make it look like a crime scene. His 'Mass Murder' series brought him early acclaim.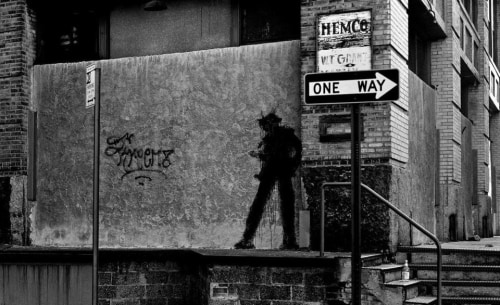 In the 1980s, Hambleton moved to New York and developed his shadowmen, especially on the Lower East Side. He became a leading member of a group of artists that included Keith Haring and Jean-Michel Basquiat; the latter first became known by tagging on Hambleton's work. Recognition followed; Hambleton exhibited at the Venice Biennale in 1984, collaborated with Vivienne Westwood and Malcolm McLaren and created works on both sides of the Berlin wall as well as Paris, where Blek le Rat first became aware of his work.
Few works if any works remain in situ today, according to Valmorbida. One of the last in New York, on the West Side Highway was only demolished last year, although photographer Hank O'Neal catalogued many of them.
As his street art disappeared with New York's gentrification, Hambleton faded from sight. Descending into drug addiction, he moved towards landscapes, the 'Beautiful Paintings' and obscurity. Interest only really revived in 2011 after Giorgio Armani, another collector, sponsored an exhibition.
Becoming an early collector wasn't easy. Valmorbida had to work hard to gain Hambleton's trust: 'He wasn't trying to be a commercial artist, he was a real artist. He wouldn't let me buy works, he didn't want to talk to the press. I turned up three times with a film crew from CNN and three times he sent us away.'
After this exhibition, there are talks about a museum retrospective but it's difficult, according to Valmorbida. 'Works are so rare, few collectors want to lend them. The market's gone through the roof.'
By Sarah Turner
Click here to view the full article on Forbes