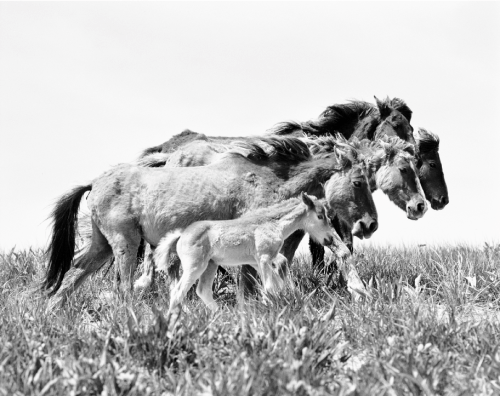 Five wild horses, a pony in the forefront, natural manes billowing with their rhythm, trot purposefully at the same pace through a sweeping field on Sable Island, off the coast of Nova Scotia, Canada. Their gazes focused, their direction clear, and their spirit free. There's a mighty sense of family, a reassurance of belonging and harmony, in this moment.
"I don't name the horses, but I name the situation," said New York-based Canadian artist Roberto Dutesco. "Generations is an image that has happened in miraculous ways. Over 25 years on Sable Island, I have seen several generations of horses."
The Sable Island Journey has been Dutesco's primary photo and film project for 25 years, helping to promote conservation and protection efforts.
Chase Contemporary Gallery donated one of its two spaces in New York's Chelsea for the 25th anniversary exhibition of Dutesco's stunning series of photographs, along with an introduction to his latest project, IAMWILD.ORG, a non-profit organization that sponsors wildlife, ocean and land conservation projects, builds schools in developing countries, and restores wild ecosystems by planting trees and seeding mangrove forests.
Celebrities mingled with the gallery crowd on Sept. 10 to benefit the African Community and Conservation Foundation (ACCF) inaugural Impact Benefit and Auction. Proceeds from the event will contribute to ACCF's efforts to support a sustainable and transformative human impact and wildlife conservation in Africa.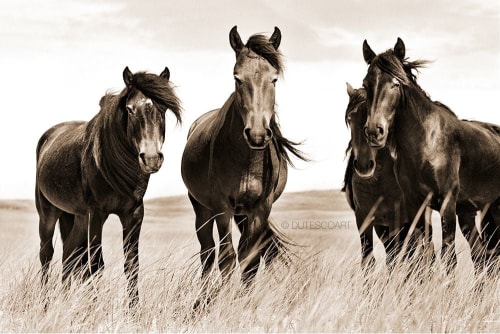 ACCF CEO Brady Forseth said: "It's a privilege to partner with the Grumeti Fund, who are demonstrated leaders in conservation and community outreach within the Serengeti ecosystem. What they've accomplished is incredible and driving sustainable human impact and conservation in Tanzania."
"I like Roberto, and I like the cause. Mainly, I like charities," said Bernie Chase, owner and founder of Chase Contemporary. "I'm the founder of many charities. I don't want to just create awareness. I keep doing these events, and I want charities to prove they give the money to the people who need it."
Dutesco is equally passionate about his own charity, as seeing so much of the world has exposed him to the many compelling causes.
The Chase exhibition presents some of Dutesco's favorite images from the exhaustive project.
"I have been doing this because my desire is to bring wilderness into the hearts of people in metropolises, to show then how the horses can inspire us," said Dutesco. "I have traveled to Sable Island 10 times."
On display at Chase is a "gigantic contact sheet" of some 36 images that's been on view at various museums in Canada and U.S. It dazzles with a singular marriage of the natural beauty of the elegant horses and a nod to Old Hollywood glamor.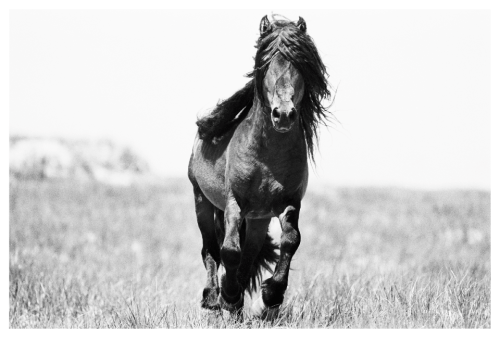 "What I like about it is that I reduced it to a smaller contact sheet (hung) at the (gallery) entrance," said Dutesco. "It's representative of the old celluloid film (used to shoot movies). I want to bring that romanticism back into the current day culture, to show people what's the difference between film and digital images."
Aptly named for the enchanter made famous in Arthurian legend and medieval Welsh poetry, Merlin captivates the viewer, whisking her away to Sable Island led by the horse's purposeful gallop.
"Merlin reminds you of that magic moment when something happens," said Dutesco. "He came toward me, stopped abruptly, and left. It was the moment when I saw that gigantic stallion, and he saw me, perhaps. And I am in awe. It is all happening in a spur of about two-and-a-half minutes."
Dutesco recalls quickly taking control of one of the three still cameras around his neck, as well as a video camera, to seize the wizardry of that fleeting moment.
"I don't think photography just happens," he said. "You have to prepare yourself and throw yourself into the moment."
To ensure he can to attain every shot, Dutesco is equipped with 12 cameras and about 20 different lenses "to pick and choose, as needed."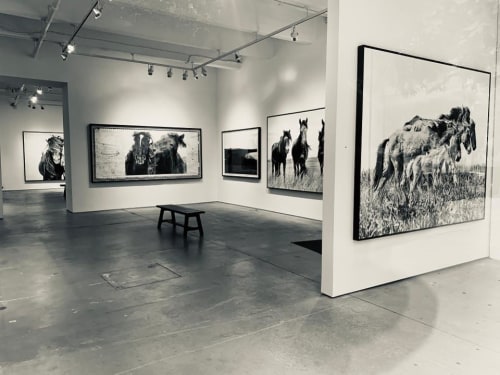 Born in Romania, Dutesco studied photography in Montreal, where he moved as a teenager. He quickly found work as a fashion photographer, and travelled around the world to document leading figures such as Pierre Trudeau, the Dalai Lama, and Mikhail Gorbachev.
Since the early 1990s, he has been dedicated to creating photography, poetry and film. He's explored more than 60 countries, discovering inspiration for a wide range of projects and short films, including the multiple-award-winning feature-length documentary Chasing Wild Horses, a CBC/Arcadia Production.
Sable Island is home to some 500 wild horses, 500 shipwrecks, and 500 years of recorded history. Inhabited only by the horses, it's known as the "Graveyard of the Atlantic," serving as a pit stop for shipwrecked sailors, transported convicts, pirates, and wreckers.
The first horses were released on the island in the late eighteenth century, and soon became feral. Over the years, more horses were brought over to perpetuate the herd's breeding stock. By the 1950s, they were on the brink of extinction, after being taken for private use and sale for slaughter.
In 1960, the Canadian government enacted a law to protect them in their feral state. Long-term, noninvasive herd studies have been performed since the 1980s, and in 2007, a genetic analysis found that the herd was genetically unique enough to merit conservationist interest. They became the official horse of Nova Scotia in 2008, and in 2011, the island was proclaimed the Sable Island National Park Reserve. The horses are legally protected from human interference.
A father of two, Dutesco is especially committed to documenting the horses' majestic life on an unspoiled island, for the benefit of future generations.
Meeting my 9-year-old son, Michael Alexander, Dutesco was delighted to learn the boy's favorite image on view is Love Bite, a close-up of an amorous horse kissing the face of another.
When children view these immense, powerful prints in person, "It's a different experience than the norm and it matters," Dutesco said.
By Natasha Gural
Click here to view the full article on Forbes